New breast cancer screening tools make their way to Capital Region hospitals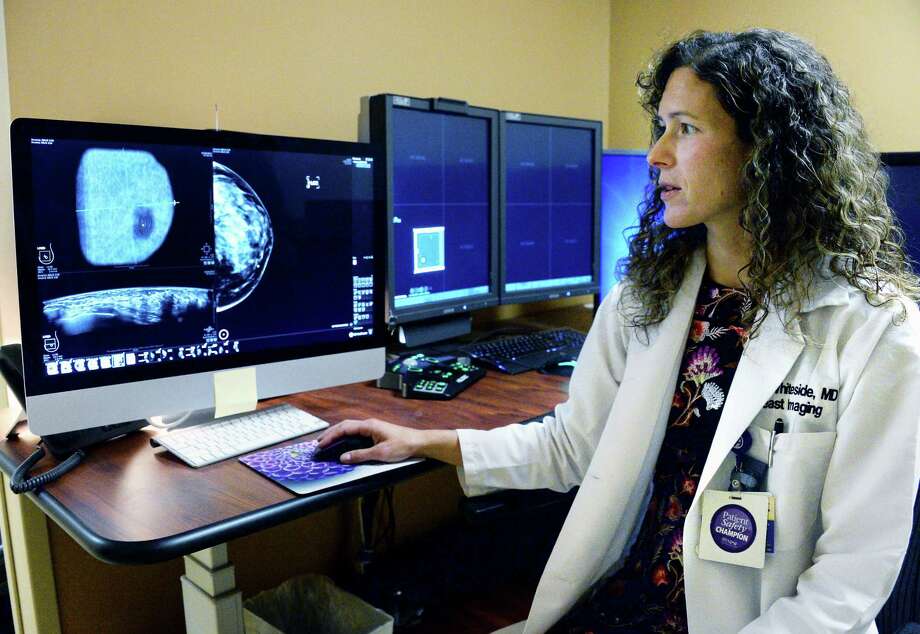 If you're among the 40 percent of American women with dense breasts, your doctor has likely recommended two kinds of images to check for breast cancer – a mammogram and an ultrasound.
Traditionally, the ultrasound has been done by a technician using a handheld wand to gather images using sound waves. The technician scans the breast tissue and snaps pictures of suspicious areas for a doctor to review afterward.
Newer cancer-screening devices have recently made their way to some local facilities, including Albany Medical Center and Saratoga Hospital. Automated breast ultrasound machines provide doctors with a more complete image of the breast, can be completed quicker than the handheld method – which may be convenient for the patient and also lets the facility do more exams — and make the technician's skill less of a factor in the quality of the results.
So far, an automated breast ultrasound costs no more than a handheld test. Insurance companies are covering it as they would a handheld ultrasound, local experts said. Breast ultrasounds must be covered for New York women with dense breasts, according to state rules put in place early this year.
Mammography alone can be inadequate in detecting cancerous lesions in dense breast tissue. Dr. Philip Fear, a radiologist with Millenium Medical Imaging in Saratoga Springs, said performing a mammogram on dense tissue is like searching for a snowman in a field of snow: healthy, but dense, breast tissue shows up white, and so does abnormal breast tissue.
On an ultrasound, cysts, tumors and growths appear dark against the lighter images of healthy tissue.
But the traditional handheld ultrasound has limitations, which Fear described using another analogy. Imagine walking into a dark room with a flashlight, he said. You must scan the room with the tool in your hand in an attempt to determine what's there. That's what a technician is doing with a handheld wand, to scan breast tissue.
An automated breast ultrasound provides the big picture.
"You can get much more detailed analysis with a flashlight, but it doesn't give you that overview," Fear said.
At Albany Med's outpatient campus on Hackett Boulevard Wednesday, technicians showed how they would use their brand-new, federally approved automated ultrasound machine made by General Electric Healthcare. They placed a rectangular transducer, which sends sound waves and receives an echo to create a visual image, onto the breast of a woman lying on her back and then adjusted it to get different angles. Radiologist Dr. Beth Whiteside showed how she could later look at the 3D images. According to Lisa Rivera-Serra of GE Healthcare, a woman would feel some pressure getting the test, but not have her breasts compressed as in a mammogram.
Millenium Medical Imaging, which provides radiology services at Saratoga Hospital, uses a Hitachi system that requires a woman to lie breast-down against the ultrasound equipment. Since 2015, more than 3,600 women have had the test.
Some patients will continue to need a handheld ultrasound, Fear said. A disability might prevent them from getting on the exam table, for instance. And even when automated breast ultrasound is done, a handheld ultrasound might also be necessary for a more detailed look at a suspicious area.
There will be false positive tests with the new ultrasounds, just as there are with other screening tests, radiologists said. However, Fear said the automated have detected cancers in some women whose tumors would not have been found by a mammogram.
The fact that handheld ultrasound tests might be needed in addition to the automated ones leaves Kirk Panneton wondering whether the new machines are really providing women with added value. Panneton, medical director of BlueShield of Northeastern New York, said the Latham-based health insurer is covering automated breast ultrasounds for now, but will be looking at incoming data to compare the results to determine their value.
Source: https://www.timesunion.com/news/article/New-breast-cancer-screening-tools-make-their-way-12270655.php