Using microCT to Research Targeted Approaches to Triple-Negative Breast Cancer
Breast cancer is one of the most heavily researched diseases to date. Current statistics suggest that 1 in 8 US women will develop breast cancer within her lifetime.1Approximately 250,000 new cases of invasive breast cancer and 63,000 causes of non-invasive breast cancer diagnoses are estimated to occur in the US during 2017.2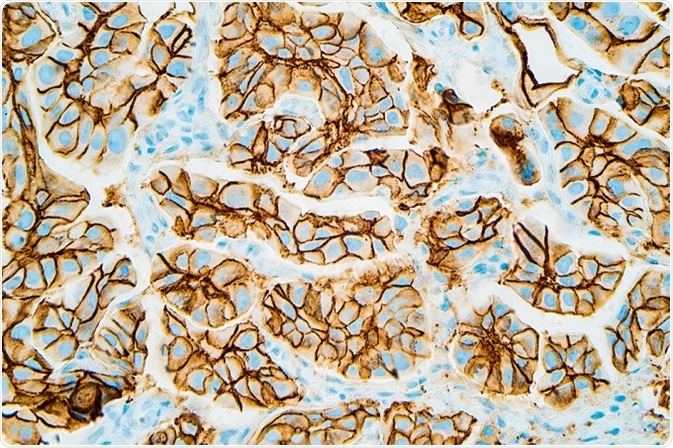 Credit: David Litman/Shutterstock.com
Triple-negative breast cancer (TNBC), a type of breast cancer which does not respond to traditional hormone therapies, is one of the most difficult-to-manage breast cancer types. Studies using CT imaging have shown that targeted pharmaceutical approaches to TNBC may be a potential management strategy.
Improving Breast Cancer Survival with Targeted Therapy
Invasion and metastasis, which can lead to relapse, is largely associated with breast cancer mortality.3 Targeted therapy in cancer treatment is a current approach for reducing tumor cell motility and the prevention of metastasis.4
Imaging with microPET/SPECT/CT imaging systems can be helpful for assessing response to this approach while also helping to modify therapy structure. Thus, a more optimized approach to cancer therapy can occur when using microPET/SPECT/CT imaging, potentially resulting in favorable survival outcomes for more difficult-to-manage diseases.
The activation of epithelial-to-mesenchymal transition (EMT), a process by which epithelial cells lose cell-cell adhesion and polarity, is believed to be associated with both metastasis and treatment failure in breast cancer.5
TNBC is a type of breast cancer that proves difficult to manage due to the disease's heterogeneity. AXL receptor tyrosine kinase, a regulator of EMT and a component often overexpressed in numerous solid tumors, represents a potential therapeutic target for TNBC. A new study examined the effect of targeted therapy in TNBC by using Bruker BioSpin's Albira Si microPET/SPECT/CT system.
Albira Si Evaluates Targeted Approaches to TNBC
Research demonstrates that downregulation of AXL may provide antitumor activity.6,7,8 In a study by Wang et al, researchers sought to determine whether non-invasive imaging and quantification of AXL expression following attenuation could provide real-time response to targeted therapy.9
The researchers in this in vivo microCT imaging study chose 17-allylamino-17-demethoxygeldanamycin (17-AAG, or tanespimycin) as the therapy for downregulating AXL expression. Researchers used Bruker BioSpin's Albira Si microCT (microPET/SPECT/CT) system along with 64Cu-labeled anti-AXL antibody for imaging AXL downregulation via 17-AAG.
Tumor-bearing mice injected with either 64Cu-anti-AXL or 64Cu-IgG underwent a 15-minute PET/CT scan with Bruker's Albira Si microCT imaging system. Manual drawing of volumes of interest over the tumors was performed for each scan for recording mean radioactivity, ultimately helping to obtain a standard uptake value.
Exactly 24 hours after 64Cu-anti-hAXL or 64Cu-IgG intravenous injection, microPET/CT imaging found that tumors were delineated by 64Cu-anti-hAXL only. Additionally, tumor uptake of 64Cu-anti-hAXL was found to be nearly three times greater than 64Cu-IgG (14.48 ± 2.88 vs 5.24 ± 0.76 %ID/g, P <0.001).
Imaging with Bruker's Albira Si system showed that AXL expression downregulation by 17-AAG administration is a feasible management strategy. Also, researchers found reducing cell migration following 17-AAG injection. Compared with control mice, microPET/SPECT/CT imaging also showed that there was lower tumor radiotracer uptake associated with 17-AAG (60 mg/kg/dose, once a day for 9 days) after 64Cu-anti hAXL injection.
Source: https://www.news-medical.net/whitepaper/20170919/Using-microCT-to-Research-Targeted-Approaches-to-Triple-Negative-Breast-Cancer.aspx