Using Optical Mammography In Combination With X-Rays To Diagnose Breast Cancer
Researchers have developed optical mammography (OM), which involves using infrared or harmless red light, for use in combination with X-rays for monitoring or diagnosis in cases that mandate repeated imaging where exposure to elevated amounts of ionizing radiation must be avoided.
The researchers from Milan, Italy, will present advancement in instrument development that enhances the sensitivity of OM by nearly 1000 times, at the OSA Biophotonics Congress: Biomedical Optics meeting, to be held from April 3 to 6, 2018, in Hollywood, Florida, USA.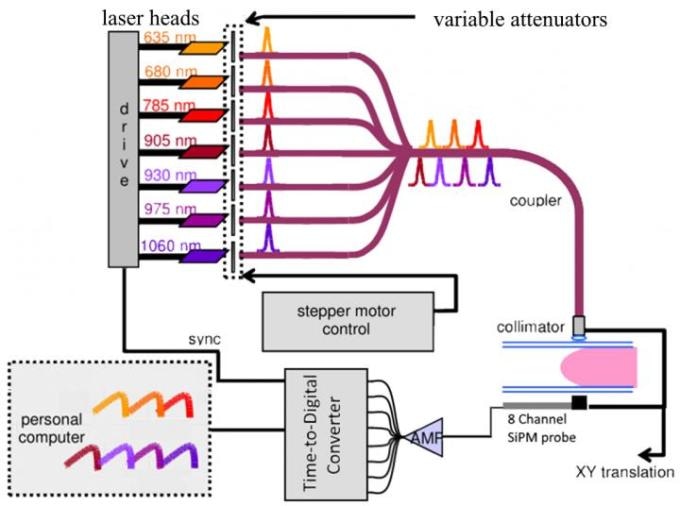 Approximately 252,710 new cases of invasive breast cancer were diagnosed in women and 2470 cases were diagnosed in men in 2017. X-ray mammography was used for diagnosis in the majority of cases. Despite the fact that X-ray imaging is an established and widely used method for the diagnosis of breast cancer, it is deprived by low sensitivity (50%–75%) as well as the use of ionizing radiation that is not considered to be totally safe.
In the newly designed instrument, an eight-channel probe including a multichannel time-to-digital converter and silicon photomultipliers (SiPMs) is used instead of the two photomultiplier tubes (PMTs) used in prevalent instruments. These modifications avoid the need for a time-intensive pre-scan step mandatory to prevent damage to the PMTs. Apart from being highly sensitive, the new instrument is also inexpensive and highly robust.
Although X-ray mammography is widely applied and is still the approved technique for routine screenings, its application is restricted by whether or not hormone replacement therapy is being used, the breast tissue itself, weight or body mass index, the patient's age, and other problems. Moreover, there have been doubts about its accuracy, specifically while being used for younger women. Despite being recommended at times, other imaging methods, such as ultrasound and magnetic resonance imaging (MRI), cannot be an effective substitute for X-ray mammography.
In contrast, optical imaging techniques have gained considerable attention for breast cancer diagnosis as infrared and visible light are highly sensitive to tissue composition. Since there is an increased vascularization when tumors grow, they are characterized by a high volume of blood. OM can be applied to measure water and collagen content, lipid, oxygenation, and blood volume for a suspicious area detected using standard X-ray imaging. Collagen measurements are specifically important because this species is considered to take part in the onset and advancement of breast cancer.
A significant drawback of OM imaging is the poor spatial resolution that has been accomplished to date. Breast cancer tumors measuring more than 1 cm are very dangerous and could more possibly result in death. Hence, a successful screening method should be able to detect smaller lesions. This could not be achieved by using OM imaging as a stand-alone method. However, OM combined with other imaging techniques looks promising.
Yet, a probable benefit in using OM is that it is enough to apply only gentle pressure to the breast tissue, which is absolutely not the case with the standard method for X-ray imaging. As a matter of fact, breast compression leads to a reduction in blood volume in the tissue, which might interfere with the OM image. Hence, compression is not applied in certain three-dimensional OM detectors being developed; instead, the breast tissue is surrounded by rings of light sources and detectors.
Although OM techniques have a poor spatial resolution, they look promising for use in pre-surgical chemotherapy. As explained by the co-author of the study Edoardo Ferocino, Politecnico di Milano, Italy, "This technique is able to provide information on the outcome of chemotherapy just weeks after beginning treatment, or possibly even sooner." Ferocino's team has proposed to carry out clinical studies to investigate the use of OM to observe and predict the results of chemotherapy.
The investigators in Milan are collaborating with a larger consortium on a project called SOLUS, or "Smart Optical and Ultrasound Diagnostics of Breast Cancer." The European Union has funded this project through the Horizon 2020 Research and Innovation Program. The aim of the project is to combine optical imaging techniques with ultrasound to enhance specificity in the diagnosis of breast cancer.
Source: https://www.azooptics.com/News.aspx?newsID=23746